Growth driven by rapid digital adoption in financial services
GTV to rise from 9% in 2021 to 14% in 2022
Ant Group has partnered ed with four leading digital wallets
Global mobile money transactions grew by 31% year-on-year (YoY) to $1 trillion, according to the State of the Industry Report on Mobile Money by GSMA, an international organisation that leverage innovation in the mobile ecosystem of businesses. Two-thirds of adults make or receive digital payments, with developing economies posting 57% growth in 2021.
China's fintech giants, Alipay and WeChat Pay crossed the one billion mark in user base in 2018. The gross transaction value (GTV) of Alipay and WeChat Pay grew by 15% and 18%, respectively in 2021. Both platforms leverage payment technologies such as quick pay, QR code and in-app web-hosted payments. Ditching the traditional payment processes for smartphones also removed banks as intermediaries.
Apple Pay is also gaining traction across many countries–its user base grew by 15% YoY to more than 500 million in 2021. It now offers services such as buy-now-pay-later (BNPL) to compete with fintech companies like PayPal and Affirm. Apple Pay plans to launch high-yield savings accounts through Goldman Sachs. Interest rates have not yet been disclosed, but a typical Goldman savings account currently pays an annual percentage yield of more than 2%.
Growth driven by rapid digital adoption in financial services
Fintech platforms in Southeast Asia (SEA) saw a major uplift in GTV at the outset of the COVID-19 pandemic. Buoyed by the tide were players GCash in the Philippines, LINE in Taiwan, GoTo in Indonesia, TrueMoney in Thailand, and Boost in Malaysia.
Digital wallets became popular, designed as it was to take advantage of ubiquitous mobile devices to access financial products and services. The wallets offer convenient and secure customer on-boarding with less-stringent know-your-customer protocols. The user-friendly interfaces tempt with an array of services. Digital wallets partner with e-commerce platforms such as Shoppee, Lazada, Alibaba, and Amazon–hallowed grounds of the Covid years.
Notably, credit card penetration in SEA stood at around 10%. Digital wallets extend financial services by eliminating the need to have access to credit in order to transact on e-commerce platforms.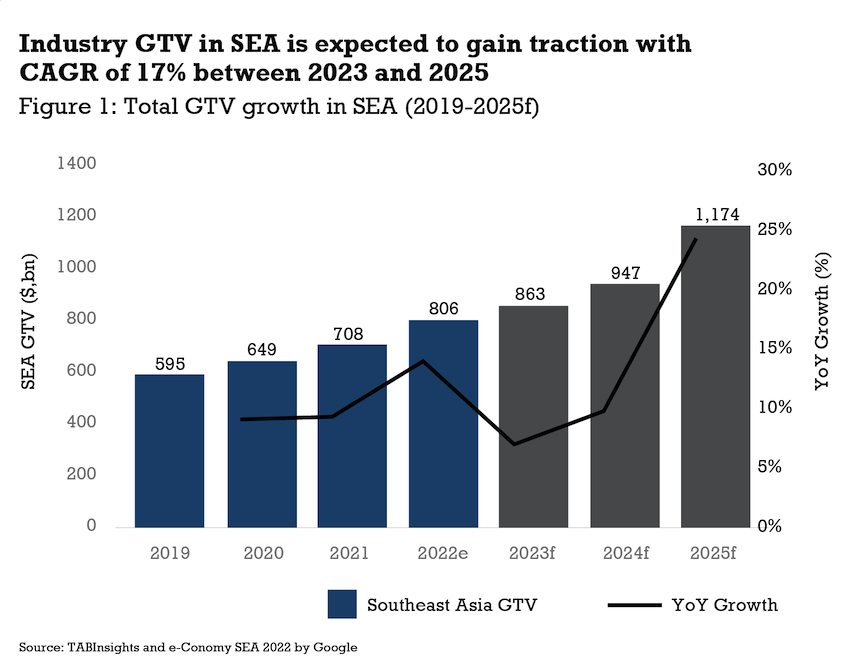 GTV to rise from 9% in 2021 to 14% in 2022
The GTV of all platforms in SEA grew by 9% in 2021 and will continue to gain traction with CAGR of 17% between 2023 and 2025. GTV in SEA is expected to increase to 14% in 2022.
The notion of digital wallets evolved from a value store and closed-loop payments platform to front-end engagement channel, enabled by a multitude of open and semi-open networks. Most platforms have integrated new products and services such as alternative consumer financing, BNPL, cryptocurrency, insurance, investments, and cross-border payments.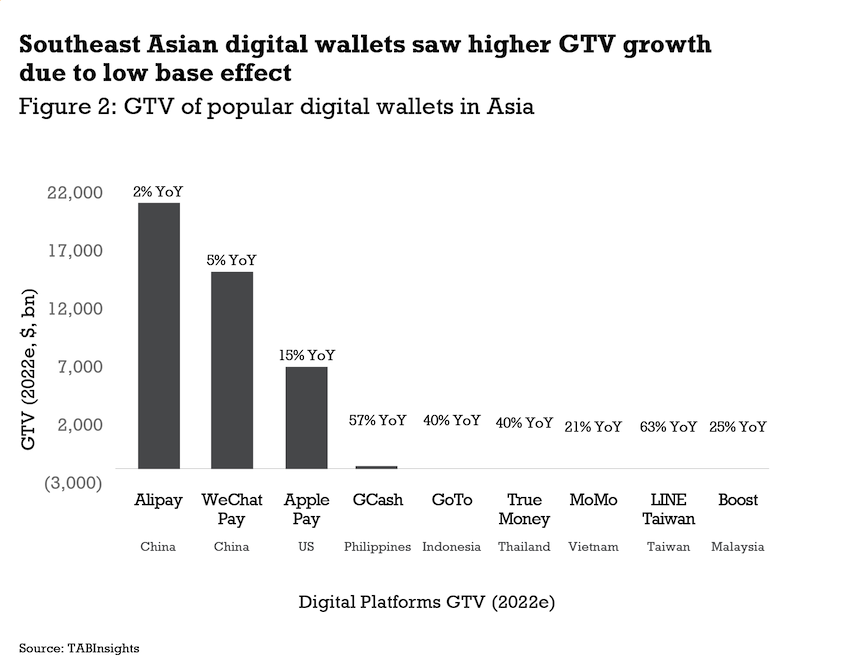 The Philippines-based GCash is becoming one of the most popular digital wallets in Southeast Asia. The platform's GTV breached $68 billion (PHP 3.8 trillion) in 2021, up 174%. It also recorded more than 55 million users, up 67% in the same year. The platform now serves 83% of the total adult population in the Philippines, becoming profitable three years ahead of its target date. GCash targeted the unbanked population of the country, some 53%. Aside from the payment services, it offers a digital savings account, quick loan, BNPL, cryptocurrencies and life insurance on its app.
Ant Group partnered with four leading digital wallets in SEA
Recently, Ant Group partnered with four digital wallets such as GCash, Touch'n Go, TrueMoney, and AlipayHK. Digital wallet users are now able to pay at over 120,000 merchants in South Korea. The partnership also extends to cross-border payment services in Japan, partnering with Universal Studios there as the first client of its kind in the region.
Digital wallets do not pose any competition to incumbents, and in fact, actively collaborate with both traditional banks and digital-only banks to offer a full suite of financial services, but without the usual customer pain points that banks have not been able to address adequately.