China, India and South Korea saw asset quality of small business loans improve
SME NPL ratio of Malaysian banks weakened due to the gradual phasing out of repayment assistance
Despite the implementation of various measures, MSMEs still face financing challenges
The overall asset quality of banks' exposure to micro, small and medium-sized enterprises (MSMEs) has remained manageable. In addition to banks' strengthened credit risk management, as supported by various debt relief programs and regulatory relaxation measures. The rebound in economic activity has enabled some MSMEs to generate cash flow to meet repayment obligations. However, MSME non-performing loans (NPLs) is still a key challenge for the banking industry, as some MSMEs have seen a severe and prolonged disruption from the pandemic. Moreover, they are under heighted pressure amid high inflation and rising interest rates.
Banks have been encouraged to increase their exposure to the MSME segment, but some MSMEs still face financing challenges. In 2022, the extended relief measures have continued to help banks contain deterioration in asset quality of MSME loans. An uptick in MSME NPLs is expected with the expiry of the relief measures. Nevertheless, the impact on overall bank asset quality will be manageable, as most banking sectors maintain sufficient capital buffers and loan loss reserves, and the exposure to the MSME segment is still relatively small in most countries.
In Asia, banks in countries such as China, India and South Korea reported some improvement in asset quality of small business loans, while Malaysian and Thai banks have experienced an increase in NPLs for the small and medium enterprise (SME) sector. The MSME NPL ratio of Indian banks remained high, albeit with some improvement. Meanwhile, banks in Thailand and the Philippines also recorded relatively weaker asset quality of small business loans.
China, India and Korea saw asset quality of small business loans improve
Indian banks witnessed their MSME NPL ratio moderate to 9.3% in the financial year (FY) 2021-22, from 12% in FY2019-20 and 11% in FY2020-21. Their MSME NPL ratio climbed to 12% in June 2021 before decreasing gradually to 9.3% in March 2022. Public sector banks in India reported a higher NPL ratio in the MSME sector in comparison with private sector banks. In addition, special mention accounts made up 11% of banks' total MSME loans in FY2021-22, down from 15% in the previous year.
Several measures have been introduced to revive the MSME sector in India, including the Emergency Credit Line Guarantee Scheme (ECLGS) which was launched in May 2020 and provides unsecured loans to MSMEs and businesses. As of 5 August 2022, loans amounting to INR 3.67 trillion ($46 billion) has been sanctioned under the scheme. No significant deterioration in MSME NPLs is expected in FY2022-23, as the deadline of ECLGS scheme has been extended till 31 March 2023. Meanwhile, the guarantee limit under the ECLGS has been enhanced further to INR 5 trillion ($62 billion).
South Korean banks have maintained the best asset quality of SME loans among these countries, and their SME NPL ratio has shown a downward trend during the past few years. In 2021, their SME NPL ratio was merely 0.6%, declining from 0.9% in 2019. The SME loans of South Korean banks expanded at a compound annual growth rate (CAGR) of 11% from 2019 to 2021, while their SME NPLs fell by 11% annually. Their SME NPL ratio improved further to 0.5% in June 2022.
In China, banks posted improved NPL ratio of inclusive micro and small enterprise (MSE) loans, which are loans with a single bank's credit line to the qualified borrower not exceeding RMB10 million ($1.4 million). The loan support policies for MSEs have been extended until June 2023, and the People's Bank of China (PBOC) provides funds to local banking institutions equivalent to 1% of the increase in their inclusive MSE loan balance from the start of 2022 to June 2023. Thus, the NPL ratio of inclusive MSE loans in China will remain resilient in the near term.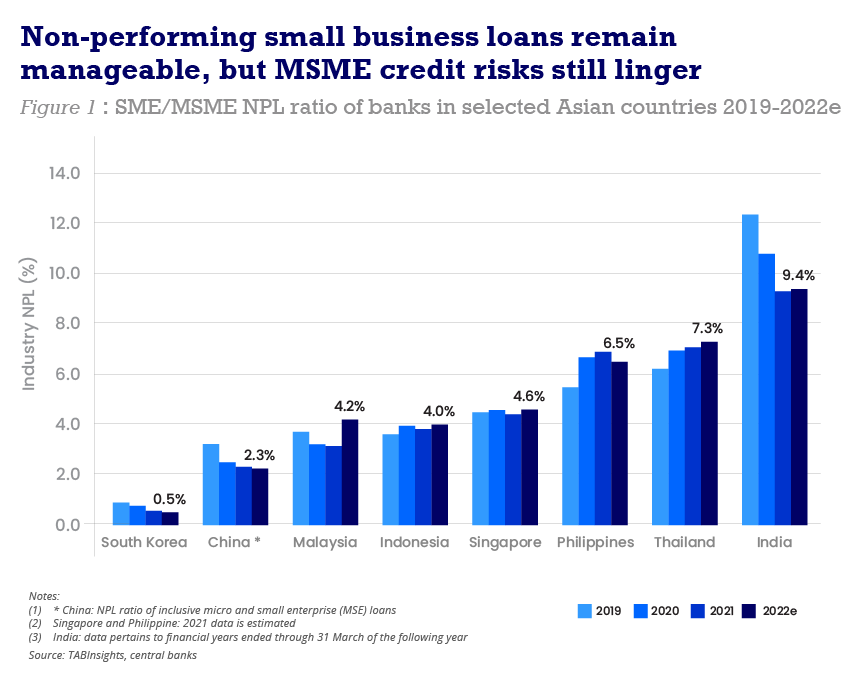 SME NPL ratio of Malaysian and Thai banks weakened
Malaysian banks saw MSME NPL ratio weaken from 3.1% at the end of 2021 to 3.7% in June 2022, as the targeted repayment assistance (TRA) scheme has been phased out gradually since the beginning of 2022. Bank Negara Malaysia made some revisions to the SME financial data it published, but it said the underlying growth trends remain largely consistent. The revision involves data from July 2021. The revised MSME NPL ratio stood at 3.3% at the end of 2021 and 3.6% in June 2022. In August 2022, the MSME NPL ratio deteriorated further to 3.8%. The impaired MSME loans was up by 15% from MYR 12.2 billion ($2.9 billion) at the end of 2021 to MYR 14 billion ($3.1 billion) in August 2022, while total MSME loans only rose by 1.5% during the same period. It's expected that the MSME NPL ratio will rise further to 4.2% at the end of 2022.
The SME NPL ratio of banks in Thailand deteriorated to 7% in 2020 from 6.2% in 2019. In 2021, the SME NPL ratio rose only marginally to 7.1%, supported by the debt restructuring and regulatory relaxation measures on loan classification. In June 2021, the Bank of Thailand (BOT) extended the debt moratorium for SMEs from 30 June 2021 to the end of 2021 and also eased the NPL classification for SME debt restructuring. The BOT will continue to maintain relaxed NPL classification and provision regulations for financial institutions until the end of 2023.
MSMEs still face financing challenges
Banks are more conservative with their lending to small businesses due to concerns over MSME credit risks. Despite the various measures implemented by the governments and central banks, the exposures of banks in countries such as Thailand and Philippines to the MSME segment were reduced. Thai banks saw total SME loans contract by 0.7% from THB 3.41 trillion ($114 billion) in 2020 to THB 3.38 trillion ($101 billion) in 2021. In September 2022, total SME loans of Thai banks fell by 0.4% Year-on-Year (YoY). In the Philippines, MSME Loans of banks also went down by 3.6% YoY in 2021 and 1.6% YoY in June 2022.
The total MSME lending of Indonesian banks slipped by 1.8% in 2020. In August 2021, Bank Indonesia issued new regulation to ask banks to increase their exposure to MSMEs to at least 30% of their loan book by June 2024. As a result, the MSME loans of Indonesian banks expanded by 12% YoY in 2021 and the MSME loan growth accelerated to 17% YoY in August 2022. Their MSME NPL ratio stood at 4.1% in August 2022, compared with 4% in 2020 and 3.8% in 2021. Although the MSME NPL ratio of Indonesian banks remained relatively stable, they face rising pressure on asset quality of MSME loans.
To view the full report, visit: https://reports.tabinsights.com/sme-finance-report