Edge computing—a bridge between users and cloud centre
Combined with AI and IoT, edge computing enables numerous use cases and service modes
Edge computing + creates opportunities in risk management and data governance
Edge computing is emerging as a solution to overcome data latency, large bandwidth occupation, and possible data breaches by bridging communication between users and the cloud centre.
In branch banking, edge provides opportunities in electronic know-your-customer (e-KYC) and other intelligent customer services such as 'the clerk on the cloud' where retail customers can meet a clerk through remote video chatting for banking services. More use cases like data governance and risk management can be made available as the 'edge computing +' mode matures.
The banking is industry is adopting cloud infrastructure to give customers frictionless mobile retail services. As business data is gathered, transmitted, and centralised on the cloud, communications between nodes and end devices have caused uncomfortable lags in response time, causing data latency and occupying more room on the bandwidth. The back-and-forth transmissions have also raised concerns around security and data privacy.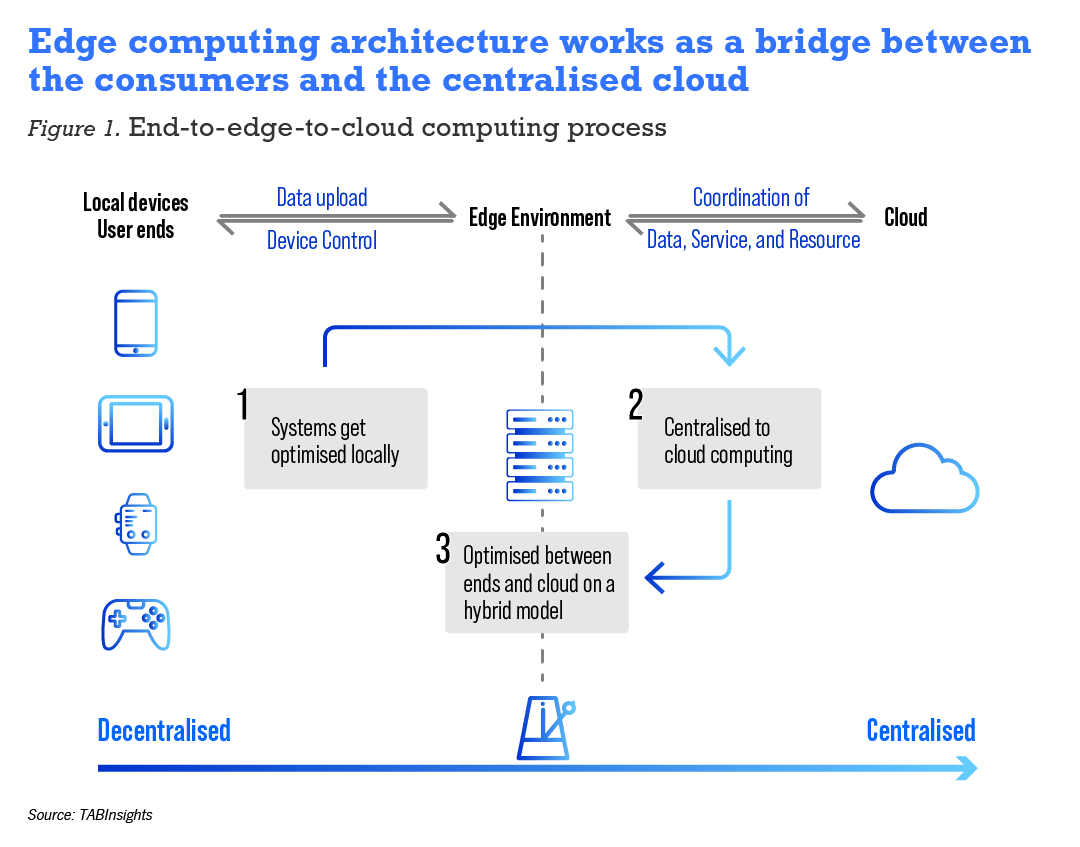 To address these issues, technology experts have come up with a blueprint of edge computing, defined as a family of technologies that distributes application data and services where they can best optimise outcomes in a growing set of locations and connected assets.
Some of the benefits of edge computing are increased network productivity, shorter response time and improved customer experience, according to Supriyanto Supriyanto, senior vice president for strategic, architecture and planning at Pegadaian, the financial services subsidiary of Bank Rakyat Indonesia, one of the country's largest banks.
Banks in the Asia Pacific region are well on their way towards edge computing. Michele Pelino, principal analyst at the market research company Forresterexplained that the evolution of network computing to edge computing tracks the arc of a pendulum that swings between decentralised and centralised architecture and processing. Currently on the pendulum, banks are seeking a balanced point of optimised coordination between local operation and globalised-level efficiency and to realise more use cases in their everyday businesses.
Combination of AI, IoT and other technologies enables numerous use cases and service modes
Edge computing architecture is designed to better process data in retail branches. By setting up distributed devices at the edge of the user-end to provide computing and storage functions, the load on the cloud computing server is reduced. This ensures that the edge and the cloud can perform with maximum efficiency.
Some advanced practices observed are auto-identification of customers and e-KYC processing; customers use artificial intelligence (AI) face recognition technology and a binocular high-definition camera installed 'on the edge'—located closer to customers. A 'clerk on the cloud' is supported by voice and face recognition and other technology for intelligent and unmanned services that improve operating efficiency at outlets.
Pegadaian has implemented edge-enabled SD-WAN as part of its network and branch transformation to optimise connectivity in local operations at over 4,000 conventional and micro-branches across Indonesia. The bank is the Indonesian state-owned leader in pawnbroking and now offers a raft of other banking services as well.

Edge computing + mode poses opportunities in risk management and data governance
Edge computing could also be implemented into the risk management process of the business. Big data technology combined with edge computing enables financial institutions to deploy mobile terminal equipment in due diligence checks. Leveraging big data, edge computing can grab available financial data—mostly unstructured data directly stored in the cloud centre—for analysis.
Edge computing + AI is able to apply unstructured data mining. In this way, financial institutions can obtain more real-time dynamic, and accurate decision-reference information, improving the intelligence and accuracy of risk control. Through comprehensively combining different data technologies, edge computing + still has countless possibilities to contribute to the game