TABInsights tested the world's 20 largest and strongest retail banks in key markets globally and produced a comprehensive ranking that evaluates their capabilities across six critical dimensions: retail financial performance, digital customer base, brand strength, sales management, customer experience and risk management.
The assessment does not consider individual bank size as the primary strength factor and instead utilises growth figures in order to standardise the evaluation process.
In this year's ranking of the Top 10 Best Global Retail Banks, CaixaBank topped the list with a comprehensive win over its peers, including Itau Unibanco from Brazil. The Spanish-Portuguese bank with over 20 million clients, 44,600 employees and 4,400 branches has a total asset size of $630 billion.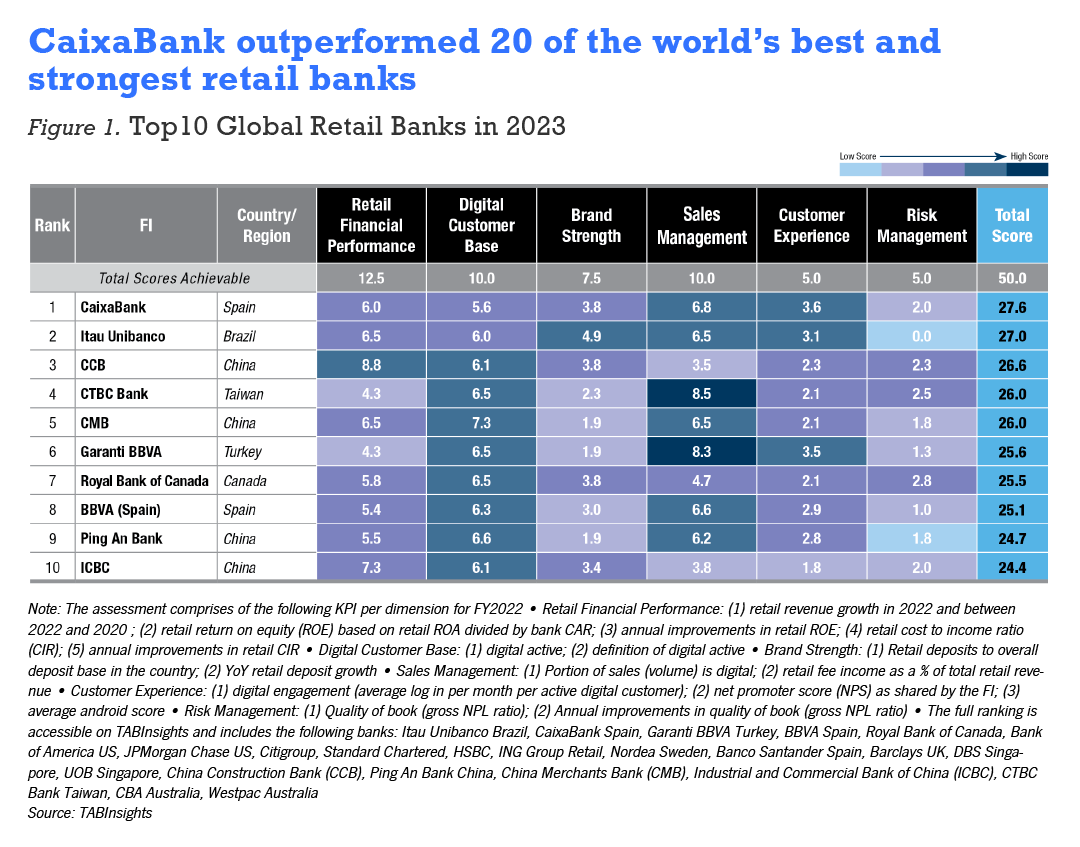 The bank claims to have 32% primary bank penetration among Spanish customers. In consumer finance, it uses proprietary data that enables it to launch tailored offerings, pre-approvals and easy sign-up. It also launched buy-now-pay-later solutions for individuals.
It ranks first in insurance and health insurance, mutual funds and payments in Spain. The bank commands 29% market share in long-term savings based on mutual funds and pensions.
The bank is also known for its wealth management services, with more than 2.9 million affluent clients and 210,000 private banking clients with total assets under management of Euro 162 billion ($173 billion).
With 26% of the Spanish population more than 62 years old, the bank is developing a strong senior citizen ecosystem targeting protection and savings solutions around key themes of wealth and investment protection, wealth transfer and succession, health, home maintenance and adaptation, and mobility or dependency.
At the same time, the bank is aiming to regain better and more sustainable growth by building its MyHome ecosystem. The ecosystem includes financing, insurance, sustainability, alarms and digital connectivity. The focus is on products associated with sustainability and increasing the usage of digital channels. In 2021, the bank gained market share in new mortgages by nine basis points.
CaixaBank and Itau Unibanco have seen some of the strongest growth in retail revenue of 12% and 13%, respectively, for 2022, while the average growth among the top 20 banks stood at 6%.
CaixaBank's retail cost-to-income ratio is 41%, driven by strong revenue growth and cost reduction underpinned by cost-savings from restructuring. It successfully completed its integration of Bankia in 2022, becoming the leading financial group in Spain and Portugal and the biggest retail lender in Spain.
In 2019, the bank started to rearrange its retail offerings according to customer experience rather than product lines. These are structured around themes such as 'Think of the Future' (wealth), 'Sleep Soundly' (protection), 'Enjoy Life' (consumer finance), 'Day to Day' (accounts, payments, deposits). By doing so the bank was able to increase product penetration.
In its customer base, 56% have payroll accounts and 23% have long-term savings and investment solutions. The bank's net promoter score stood at 58. It strengthened its Listening and Improvement Model for customer experience across all channels by allowing customers to immediately post their satisfaction after every interaction. This is followed by an immediate feedback loop to the front line.
CaixaBank is a leading innovator in technology. Its mobile banking app is intuitive and user-friendly. It provides contactless payments, voice recognition, biometric authentication and virtual assistants.
Impressively, 71% of clients are digitally active on a rolling three-month basis, and 54% of retail clients are mobile-only customers. The bank also boasts a 99% digital signature rate for contracts and 100% sales force on smart tablets. CaixaBank is able to connect with around three million customers daily, or approximately 15% of its total customer base.
The bank has invested heavily in digital infrastructure, including data management systems, cybersecurity measures, and cloud computing capabilities. This enables the bank to process large volumes of data efficiently, while also providing a secure environment for its customers.
With more than 21% cloud adoption by 2022, the bank processes about 25,000 transactions per second. Additionally, the bank has extended the scope and use of agile methodology, with more than 26% of its information technology personnel using the agile approach.
Moreover, it established data lake capabilities, a single information repository, and implemented more than 451 robotic process automations. The bank has generated six million conversations between branch employees and virtual assistants, and it currently has 14 cognitive assistants providing support during administrative procedures.
Furthermore, the bank has expanded into the metaverse, opening CaixaBank Group's first virtual reality banking branch. The bank has been carbon net zero since 2018, and in 2022 launched its first climate report as the European benchmark-bank in sustainability. It is also the only European bank chosen by the European Central Bank to collaborate on the prototype of a digital euro.
CaixaBank's visionary approach to retail banking, placing a premium on creating a value proposition that revolves around customer needs and executing it, make it a force to be reckoned with in retail financial services. By implementing an efficient and tailored customer service model, the bank is poised to maintain its dominant market position in Spain while also earning recognition as the Top Global Retail Bank in 2023.
Click here to see the full Global Retail Banks Ranking 2023