Non-bank, small ticket personal loans in Thailand are expected to grow at a compounded annual rate of 18% between 2023 and 2025.
Ninety-nine percent of alternative credit in Thailand is driven by big techs like LINE and True Money.
Commercial banks are responding to this threat by developing their own end-to- end, small ticket digital lending capabilities.
Alternative credit—unsecured microlending by non-bank players –as revolutionised by Alipay and WeChat Pay in China, is thriving in Southeast Asia. In Thailand, payment platforms are at the forefront of this wave.
Nearly all alternative credit in Thailand is provided by so-called big tech firms like LINE and TrueMoney. The contribution of these challengers to alternative lending in Thailand is the highest in Asia at 99% share in the credit space, followed by Japan at 92%, Vietnam at 87%, Korea at 84%, and China at 82%.
The country has strong potential in unsecured lending as 10% of household lending is under grey market and only 33% of Thais have credit history. The addressable market of total unsecured lending in Thailand is estimated at 30 million customers, while only about 21% is captured by commercial banks. Lending is shifting from credit card loans to unsecured end-to-end digital loans.
Big tech credit disbursement in the country rose by a compound annual growth rate (CAGR) of 23% between 2019 to 2021. It is expected the market will see close to $1 billion alternative credit disbursed in 2022. Hence, platforms such as LINE, True Money, MoneyThunder, and Finnix are drawn to this market, offering loans of between $55 to $3,000 (THB 2,000 to THB 107,000). Unsecured microlending market has higher profit potential as regulation allows financial institutions to charge up to 25 % interest rate.
A key barrier for banks to capturing this demand is the limitation on proving the applicant's income. Banks traditionally issue unsecured loans but only to salaried account holders who can present a payslip indicating monthly income of at least $200 (THB 8,000 ). Non-salaried customers such as online sellers, freelancers, construction contractors, gig workers, and small business owners are often out of reach, although banks have been ramping up capabilities in targeting these segments since the pandemic.
Total unsecured outstanding loans in the industry is around $41.7 billion (THB1.5 trillion), eight percent of the country's GDP. The industry book has been growing by 42% o n a compounded annual growth rate between 2017 and 2021.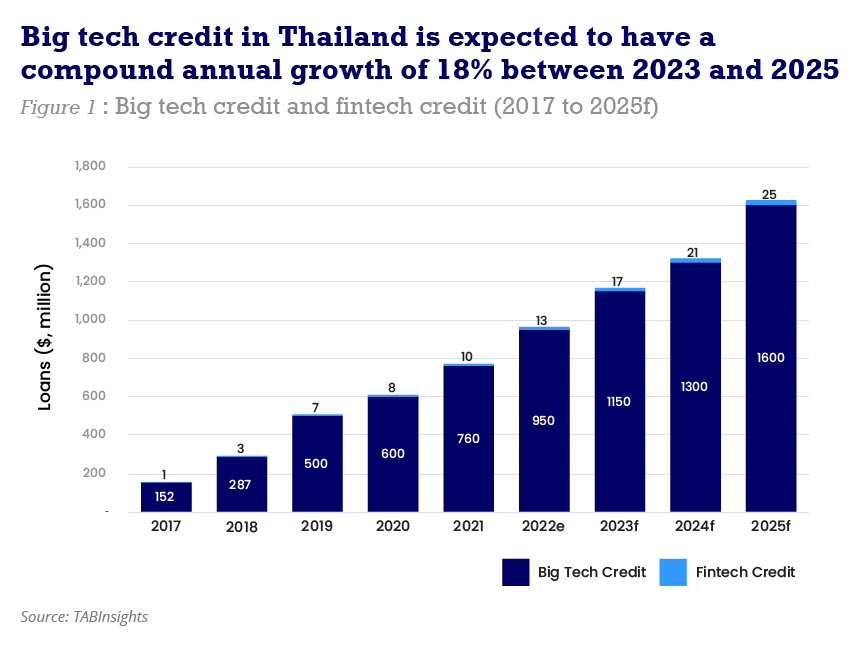 Note: Big tech credit are unsecured loans provided by a large company which primary activity is digital services.
The collaboration between KBank and LINE since 2020 aims to disrupt the traditional unsecured lending industry by leveraging both KBank's financial and LINE's behavioural data to find the right customers with the willingness and ability to pay as well as the right collection model. The platform LINE BK introduced a personal loan product called 'Credit Line' and a nano finance loan product. Nano loan aims to increase small business' access to credit. Its nano loan size averages at $300 (THB 11,000 THB) in contrast to credit line loan size of $970 (THB35,000).
LINE is the top chat application in Thailand used by more than 90% of the total population. Within the next three to five years, LINE BK aims to become the third largest personal loan provider in the Thai market.
Almost 600,000 credit line accounts have been approved in the first half of 2022, with total loans disbursed of over $553 million (THB 21 billion); the quality of the book is in line with industry non-performing loan (NPL) levels.
Customers without fixed salary and pay slips or those with monthly income of at least $180 (THB 7,000) can apply for the two loan products. LINE BK provides a flexible disbursement plan either by monthly installment or revolving plan. Loaned money will be disbursed to LINE BK account with zero transaction fee and an option to pay in installment for up to 60 months. Loan applications can get approved within 10 minutes.
LINE BK processes more than 20,000 loan applications daily. It claims that 30% of approved customers were never granted loans by conventional financial institutions before.
In light of this, banks have ramped up their digital lending capabilities in Thailand either by embedding digital finance solutions in partner sites (e-commerce, large retailers, telecommunication) or building their own proprietary mobile lending platforms to enable customers to complete the end-to-end loan journey from application, credit review, contract confirmation and disbursement.
Good examples are Siam Commercial Bank's QuickCash, KBank's Pay Later, Krungsri i-FIN and TMRWs Cash Plus. These leading players can turnaround the loan from application to approval in less than a day with real time credit assessment via real time application programming interface (API) connectivity to credit bureaus, and, to a certain degree, with corporate partners.
Traditional lenders in the market also offer ease and speed through digitised lending processes with pre-approved, straight-through loan products, but their enterprise data environment, underwriting criteria and usage of data remain traditional.
Fintech and big tech credit complement rather than replace other forms of lending, improving overall access to credit in the Thai market.
Click here if you wish to be a subscriber or member of the working group: