Consumers voted for a different set of banks in 2023
Incumbent institutions attracted a large base of loyal customers
Inclusivity and adaptation to market and digital trends led to consumer satisfaction
Bank Central Asia (BCA) Indonesia achieved the highest score among Indonesian voters for Most Recommended Retail Bank. Based on the standardised regional score, BCA also ranked above all its peers in Asia.
Alongside BCA, Hong Kong's Citibank, China's Bank of China and HDFC India were the only institutions that remained in the top 10 list. New entrants at the top were Vietcombank (Vietnam), E.SUN Bank (Taiwan), and ICICI Bank (India).
In Vietnam, Vietcombank dethroned Techcombank while in South Korea, Toss Bank overtook KakaoBank, and UnionBank of the Philippines reclaimed its position from Bank of the Philippines.
In the platform category, Alipay secured the top spot in China's consumer vote and was also ranked as the best overall platform in Asia based on our regional scores, with WeChat Pay and GCash as close contenders.
In the digital-only banks category, Toss Bank was ranked the top regional bank in South Korea through consumer votes for the first time, ahead of KakaoBank and Paytm Payments Bank (India).
Consumers chose a different set of banks in both regional and national surveys
BCA has a long-standing history in Indonesia and is popular here. It was voted Most Recommended Retail Bank by customers who found it to be a reliable and consistent financial provider. Being able to serve customer needs amid ever-changing market conditions and rallying to meet the pressure especially during the pandemic, helped BCA stand out to its customers who rate it as a trusted and helpful bank.
Lockdowns during the COVID-19 pandemic drove customers towards digital channels for their daily needs, and necessity being the mother of invention, financial institutions were not far behind with digital innovations and transformation across the industry for an increasing range of financial and lifestyle offerings.
Vietcombank changed the way its products and services were delivered to its customers, and it was no small feat for the Vietnam-based bank to jump from 27th place in 2022 to second place in 2023. According to the survey, customers said the bank provides suitable, stable, and safe banking solutions that gave rise to customer confidence.
The new entrant on the list, South Korea-based Toss Bank in third place, was voted for services that are reliable, dependable and secure. It is the sole digital-only bank in the rankings. The bank continues to address inclusivity in underserved segments of the population and offers tailored services accordingly. It is the first bank in South Korea to allow foreigners to create a bank account in the country.
Following in the footsteps of TossBank, both BCA and DBS have also enabled foreigners to open local banking accounts in Indonesia and Singapore, respectively.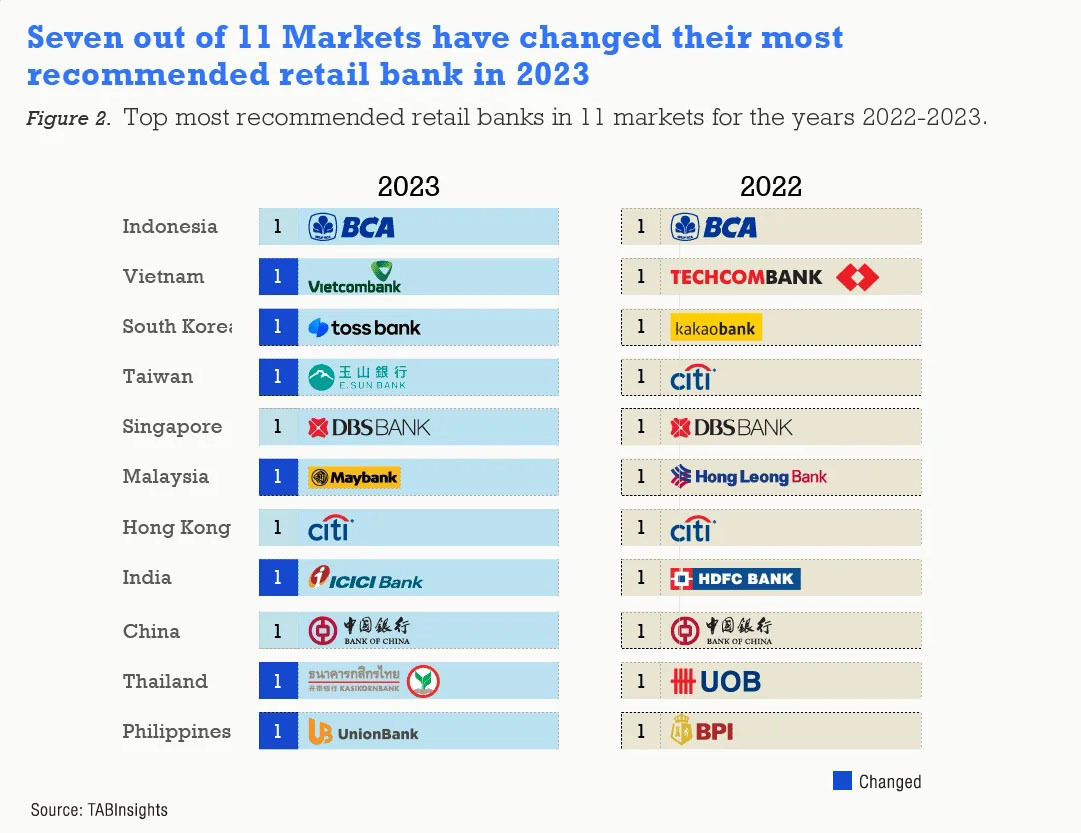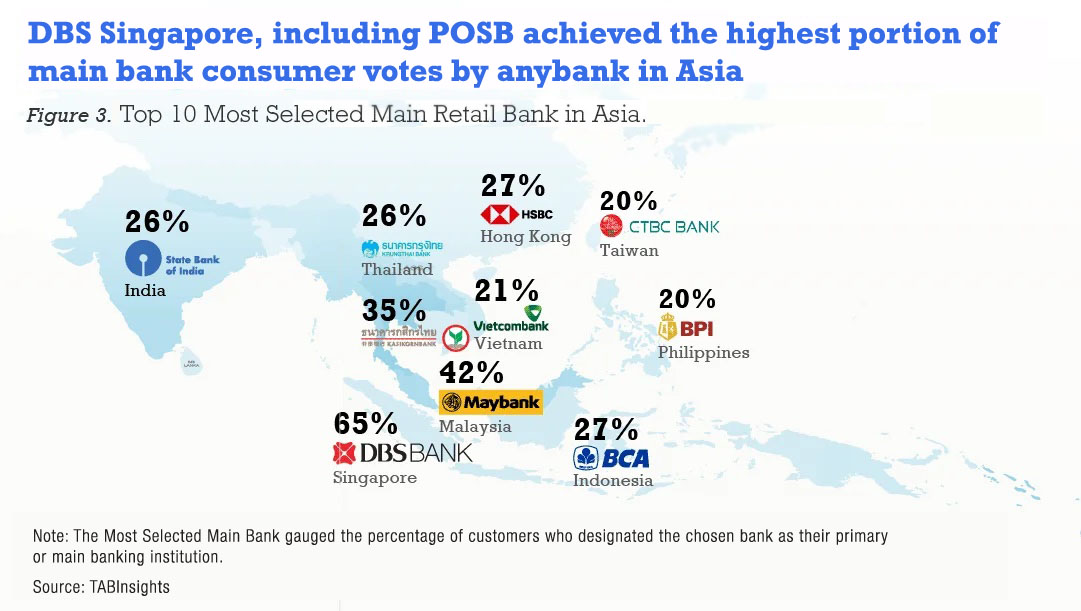 Established institutions continue to attract large base of loyal customers despite incursion by digital banks
DBS Singapore topped the 2023 BQS as the Most Selected Main Bank in APAC. According to the survey, the bank is considered the safest bank in the country, garnering 65% of the total surveyed votes, 2% higher than last year.
According to the survey, consumers were more likely to vote for banks that provide superior customer service. Malaysia-based Maybank initiated a $4.89 million customer-service improvement programme launched in August 2022. It gathered 42.3% of the total surveyed votes and was noted for being a reputable and reliable bank. Maybank has over 6.9 million mobile users, over 380 retail branches and six investment banking branches in Malaysia.
Having many bank branches, automated teller machines and a strong presence despite uncertainties make a bank preferable. Kasikornbank (KBank) ranked as the third Most Selected Main Retail Bank in APAC. The bank has a large customer base of 21.3 million, up 9.3% year-on-year. KBank enhanced its appeal by launching K-Strategy that focuses on corporate social responsibility (CSR) and environmental social governance (ESG) initiatives.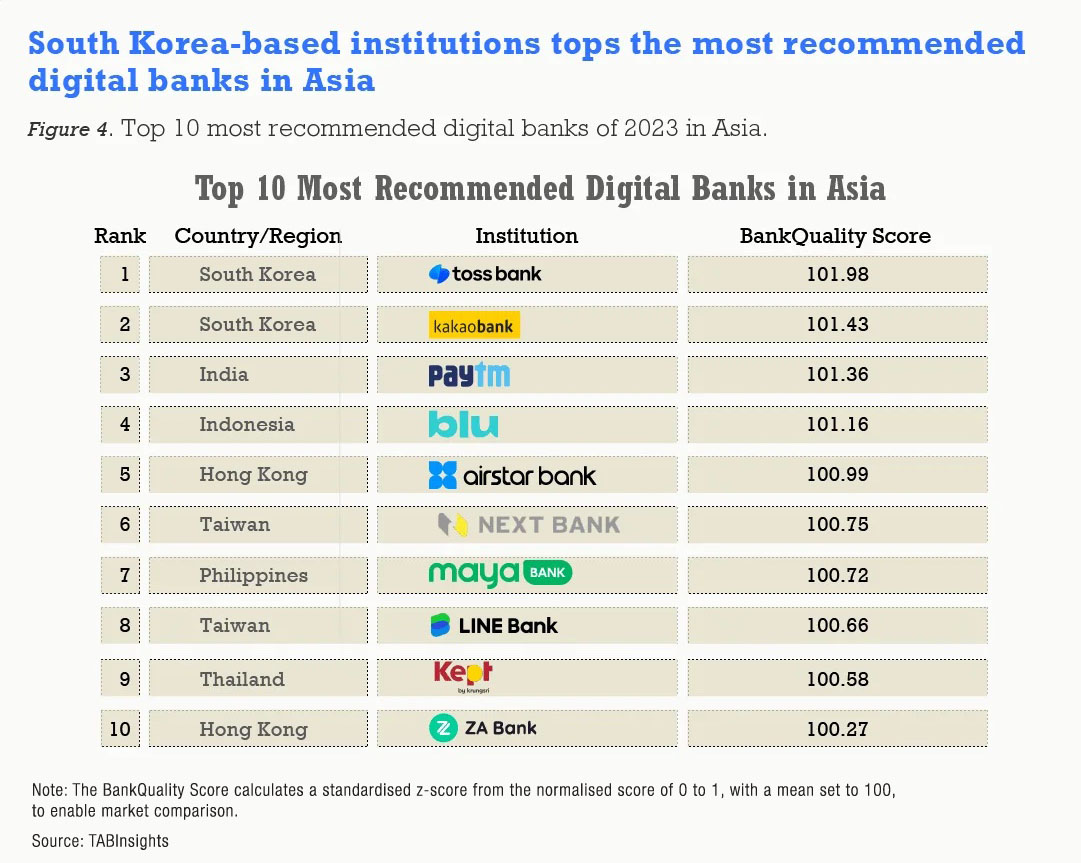 Inclusivity and adaptation to market and digital trends high on customer agenda
Toss Bank has a keen focus on financial innovation and accessibility, and thrives on its strong reputation among South Koreans.
Continuous innovation and digital transformation have launched different institutions and platforms, and this is seen as a rising trend driven by customers who find that digital channels are more convenient and flexible in terms of payment and banking solutions.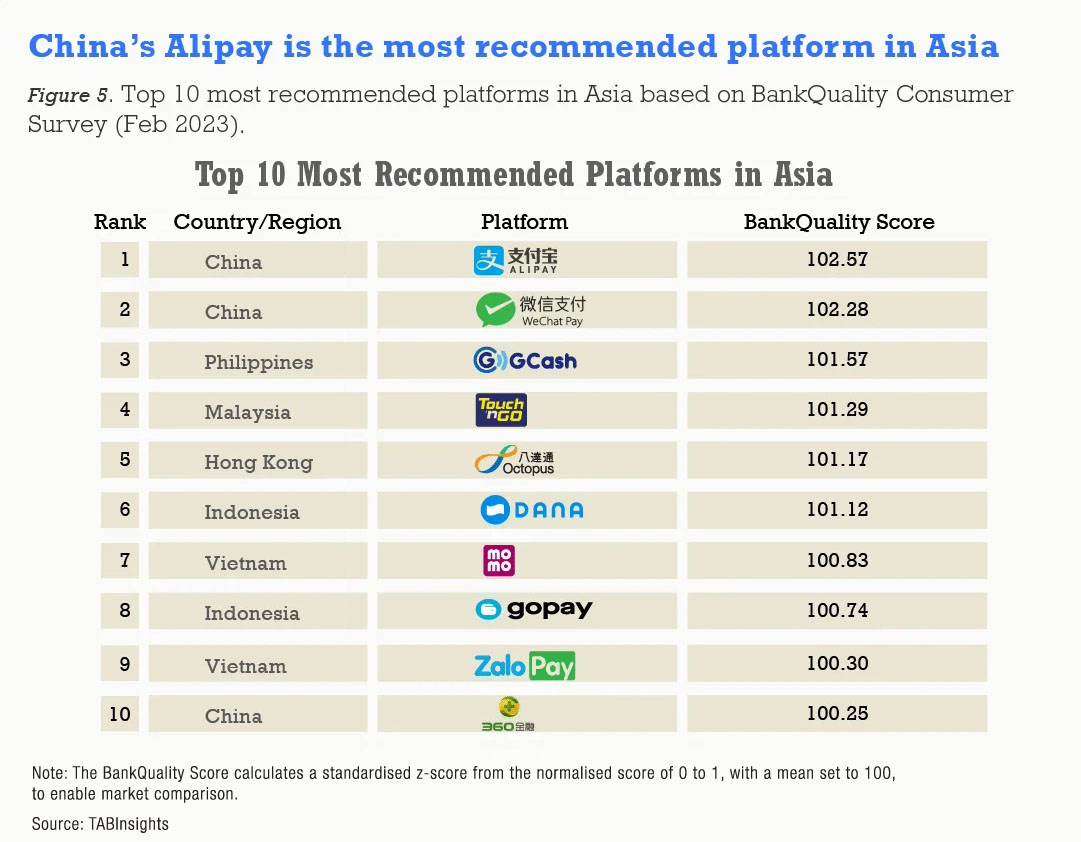 Having a strong grip on customers requires a lot of effort from institutions, especially when new entrants in the market offer better features that allow greater convenience. Alipay, with 747 million active users in 2022, made a major contribution to the Ant Group's gross transaction value. The platform has always been the best payment platform in China, according to BQS responses. It was followed by WeChatPay, also from China.
This year's BQS has hinted that inclusivity has become increasingly important in the banking and financial industry. Kasikornbank adopted CSR-linked initiatives that supports environmental sustainability, social development and community empowerment. Customers seeking more diverse and equitable services provide an opportunity to attract a broader customer base and improve customer satisfaction.
The BQS survey signals to the banks and financial services industry what customers value for their own satisfactory engagement with these institutions, and also sends a nod towards those that take a wider view around inclusivity and ESG responsibilities.
Customers valued innovative products and services that cater to specific needs of different customer segments—such as the path pioneered by Toss Bank in South Korea, and since followed by Bank Central Asia and DBS in empowering foreigners to open local bank accounts.
A financial institution's commitment to CSR to support environmental sustainability, social development, and community empowerment was also valued by its clients. Initiatives incorporated by Kasikornbank offer a glimpse into unconventional and creative examples of how institutions can implement inclusivity in their offerings.
Customers are more aware and smarter in terms of selecting what banks should hold their money. It is important for financial players to keep up with the trends, but not at the expense of success and growth in the long run.
The BankQuality™ Consumer Survey (BQS) and Rankings are based on the responses of 11,000 customers in 11 markets across Asia. The survey, conducted between January and February 2023 is a digital consumer feedback channel developed by The Asian Banker. It surveys customers in each of the 11 markets in Asia to understand their engagement, experience, and satisfaction with their retail financial services institutions based on their experience with services, channels and products. The country scores that are based on a normal score from 0 to 1 are then translated into a regional z-score to standardise the country votes and rank them regionally.
This year's BQS was determined by institutions' established reputation, consumers' preference for digital services, and inclusivity amid changing economic conditions. Consumers are seen to be more aware of the digital products and customer service experience provided by their chosen and recommended bank and voted on specific product and service offerings.
To view the full ranking, visit: https://www.bankquality.com/global-rankings/most-recommended-retail-banks-in-asia-pacific