China's financial sector has been instructed to limit the compensation of high-level executives in line with President Xi Jinping's Common Prosperity goal. In comparison to other financial sector organisations such as securities firms and asset managers, pay levels at commercial banks have been relatively less affected.
The sector continues to face growing pressure to reduce income disparity. The China Securities Regulatory Commission and the People's Bank of China have reduced the budget allocation for employee salaries in 2023. It is expected that more senior staff at commercial banks will experience pay cuts, and a greater number of banks will adopt mechanisms for deferred payment of remuneration and the recovery and deduction of performance-based remuneration.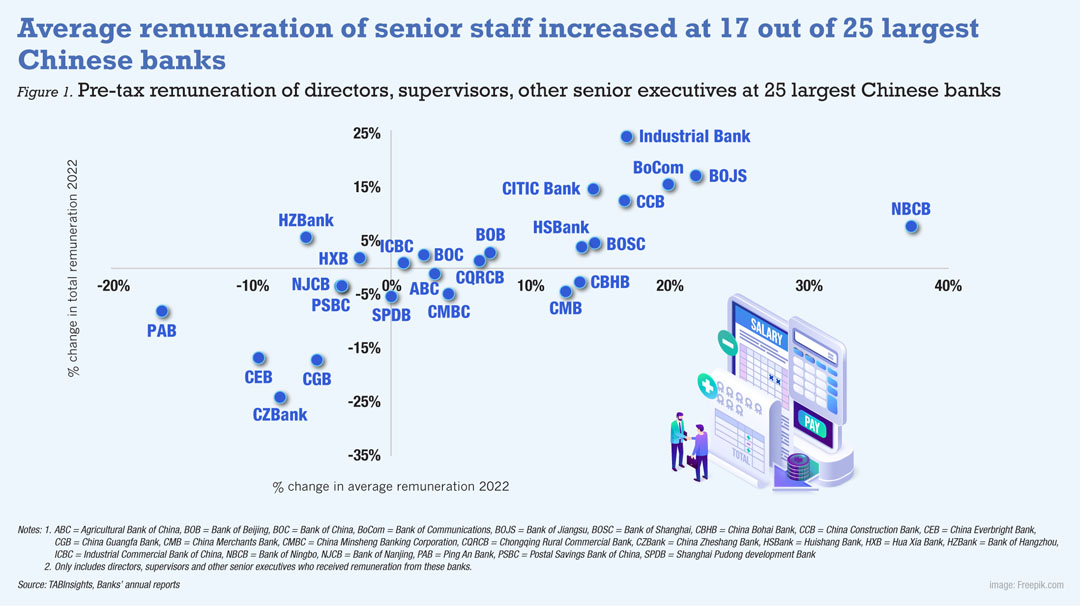 Average remuneration for senior staff rose in 2022
Out of China's top 25 largest commercial banks, 17 witnessed a rise in average pre-tax remuneration for directors, supervisors, and other senior executives, while 14 observed an increase in aggregate pre-tax remuneration for senior staff.
This analysis excludes individuals who did not receive remuneration from these banks, such as the chairmen and presidents of Postal Savings Bank of China, China Citic Bank, China Guangfa Bank (CGB), as well as the chairmen of China Merchants Bank (CMB), Ping An Bank (PAB), and China Everbright Bank (CEB).
The weighted average growth in total pre-tax remuneration paid to senior staff at the 25 banks stood at 0.7% in 2022. Industrial Bank saw the most significant increase in total pre-tax remuneration for senior staff, at 24.5%. By contrast, China Zheshang Bank (CZBank), CGB, and CEB experienced declines in total pre-tax remuneration for senior staff by 23.9%, 17.2%, and 16.8%, respectively.
When it comes to average pre-tax remuneration for senior staff, the 25 banks achieved a higher weighted average growth rate of 6.8%. Bank of Ningbo (NBCB), Bank of Jiangsu, and Bank of Communications (BoCom) observed the highest increase in average pre-tax remuneration at 37.8%, 22.3%, and 20.1%, respectively.
By contrast, PAB witnessed the largest decrease in average per-tax remuneration, with a decline of 16.6%. This decline can be partially attributed to the impact of the pandemic on its business during the first half of 2022, which resulted in a reduction in pre-determined bonuses.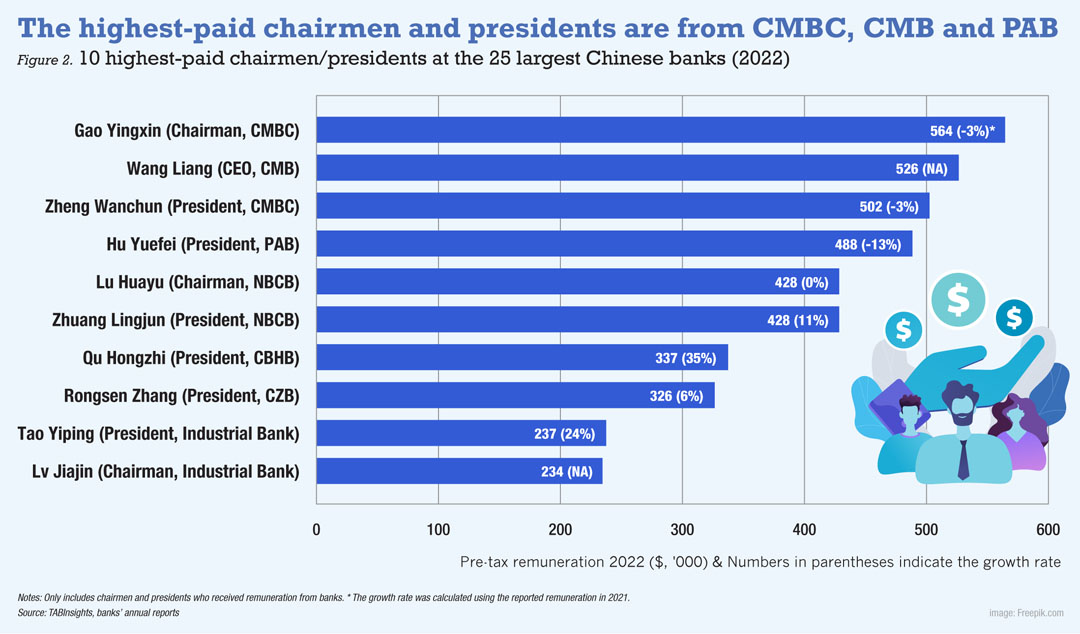 Chairman of CMBC earned the highest remuneration
Among the chairmen and presidents who were with the bank in both 2021 and 2022, approximately one-fifth of them experienced a decrease in their remuneration in 2022. This includes Gao Yingxin, the chairman of China Minsheng Banking Corporation (CMBC), and Zheng Wanchun, its president, as well as Hu Yuefei, the president at PAB. Nevertheless, they are among the 10 highest-paid chairmen and presidents at the 25 banks.
Gao Yingxin ranks first in the pre-tax remuneration ranking among the chairmen and presidents who received remuneration from the banks directly. He is followed by Wang Liang, the president and CEO of CMB, Zheng Wanchun and Hu Yuefei.
Xie Yonglin, the chairman and non-executive director at PAB, received a higher pre-tax remuneration of RMB 7.5 million ($1.1 million) in 2022, but he was paid by Ping An Insurance Group.
Gao Yingxin and Zheng Wanchun from CMBC were paid RMB 3.9 million ($564,000) and RMB 3.5 million ($502,000), respectively. Despite their first and third rankings in terms of remuneration, CMBC experienced a 16% decline in operating income in 2022. Its return on equity (ROE) and return on assets (ROA) were 5.9% and 0.5%, respectively, lower than CMB's 15.3% ROE and 1.5% ROA.
Senior staff at state-owned banks were paid much lower
The overall pay level at state-owned banks has consistently been lower compared to joint-stock banks and large city commercial banks. On average, senior staff at joint-stock banks receive more than double the remuneration of those at state-owned banks. Among chairmen and presidents at state-owned banks, Ren Deqi, chairman of BoCom, received the highest remuneration of RMB 0.9 million ($131,000) in 2022.
The average remuneration for senior staff at the top banks ranged from RMB 0.3 million ($39,000) to RMB 1.7 million ($242,000). CMBC, CMB, NBCB, NJCB, and PAB had the highest average remuneration for senior staff, while Chongqing Rural Commercial Bank and Agricultural Bank of China (ABC) had the lowest.
CMBC paid a total of RMB 56.8 million ($8.2 million) to its 34 senior staff, while the 25 senior staff at ABC only earned a total of RMB 11.8 million ($1.7 million).