Southeast Asia's digital economy is closing at $200 billion in GMV by 2022, and is estimated to grow 20% annually up to 2025
Fintechs are spearheading efforts to digitally onboard MSMEs offering them payment, cash management and merchant services and solutions
Platforms and fintechs have developed strong visibility among emerging digital-first MSMEs
The micro, small and medium sized enterprise (MSME) sector is embracing digital economy and boosting overall economic activity and growth in Southeast Asia. The region's digital economy which includes Indonesia, Malaysia, the Philippines, Singapore, Thailand and Vietnam, is projected to reach $194 billion in gross merchandise value (GMV) by 2022 and is expected to grow at a compounded annual rate of 20% until 2025, according to a recently released study by tech giant Google and Singapore's national investment company Temasek.
The pandemic was not just a catalyst for adoption of financial services in the consumer space but also saw a rapid acceleration of micro and smaller enterprises adopting digital services such as online payments, e-invoicing and e-collection services. The total number of this segment in Southeast Asia is estimated at between 70 and 80 million enterprises. But digital adoption in the micro and ultra-micro segment, with turnover between $100,000 and $750,000 per annum, is uneven, and most remain off the digital grid.
Fintechs such as GoTo in Indonesia, Gcash in the Philippines, Alipay+ and Fazz are spearheading efforts to digitally onboard these MSMEs at a rapid pace of between 100 to 200 merchants per day into their payment gateways. Such a scale of merchant acquiring and support requires a technology capability that may currently be out of the reach for most commercial banks. However, the opportunity is catching the attention of the global transaction banks, for example, JP Morgan recently announced that it is ramping up its merchant services capabilities in Asia Pacific to offer the full spectrum of payments services in what it described as a region that accounts for the largest retail e-commerce sales in the world.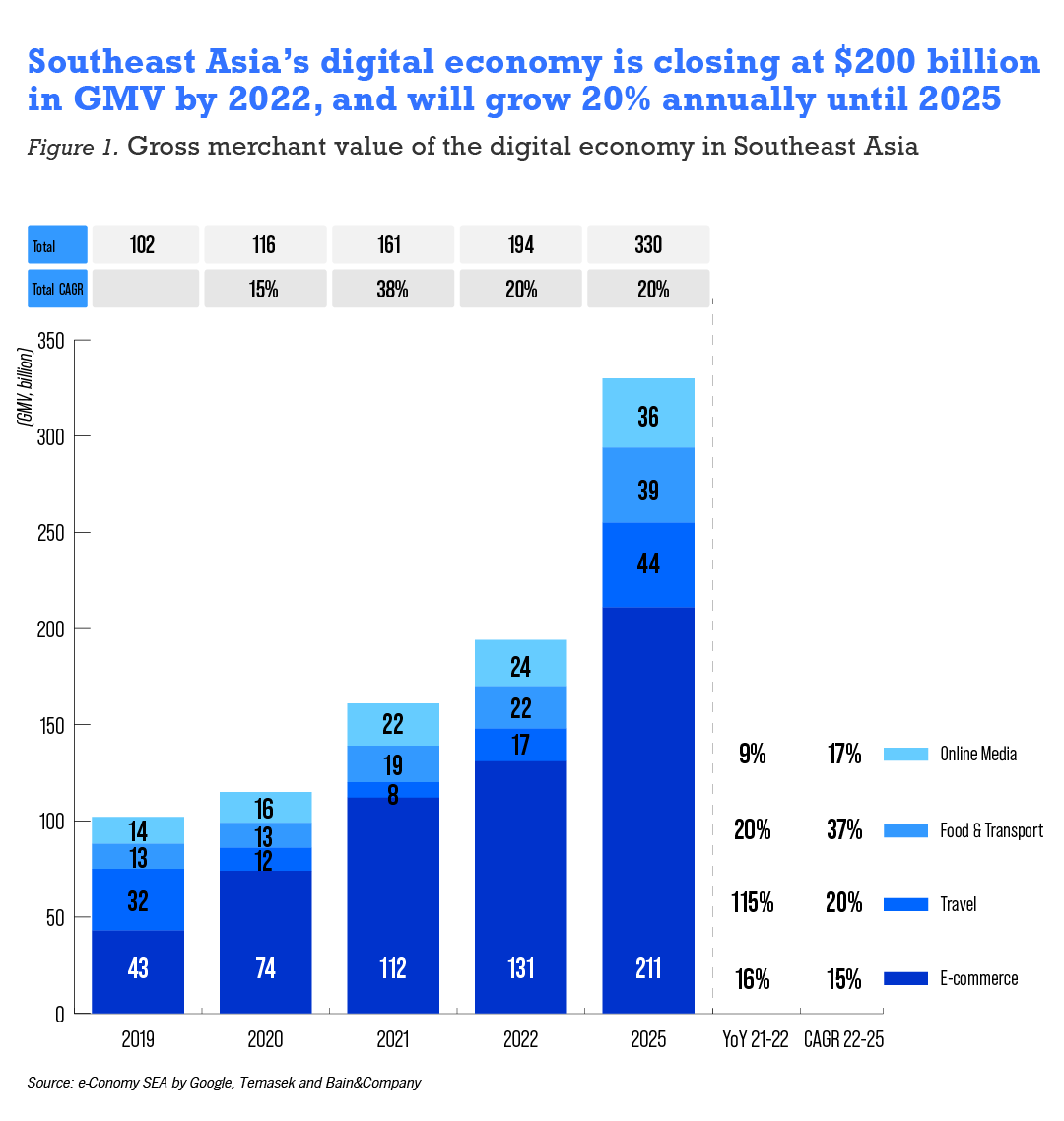 Ant Group's Alipay+ announced at the Singapore Fintech Festival in early November that its global merchant coverage has more than doubled to 2.5 million. The payments platform is at the same time connecting local payments platforms in Asia, many of which it has equity stakes in, into a single network, providing customers, including smaller businesses, cost effective cross-border payments, forex exchange and settlement in a manner hitherto reserved for larger enterprise and corporate clients of banks.
Fazz, a payments platform serving mainly Indonesia and Singapore, caters to more than 1.5 million startups by providing access to business accounts with payments, savings, and credit facilities- all on one seamless integrated platform. In addition, alternative lenders and platform players are rapidly evolving into one-stop portals for sellers and merchants, offering cash management, financing and payments services. They possess substantial advantages over commercial banks through the data and insight gained from their large seller and merchant base.
Fintechs have developed acute understanding of micro segments. In Indonesia, business-to-business (B2B) lending platforms such as Investree, Modalku and Amartha have all carved out niches in targeting MSMEs. Amartha is focused on financial inclusion and businesses in the rural areas with an average loan size of $1,000 and below. Modalku and Investree are focused on the upper segment in the near bankable small and medium enterprise (SME) segment with an average ticket size of $60,000, while Koinworks is focused on the middle micro segment. A lot of these small businesses are unprofitable for banks.
However, these platforms do not yet offer the broad scope of services of the established banks and they may not have the breath of working capital and corporate finance solutions for businesses as they grow in their life cycle.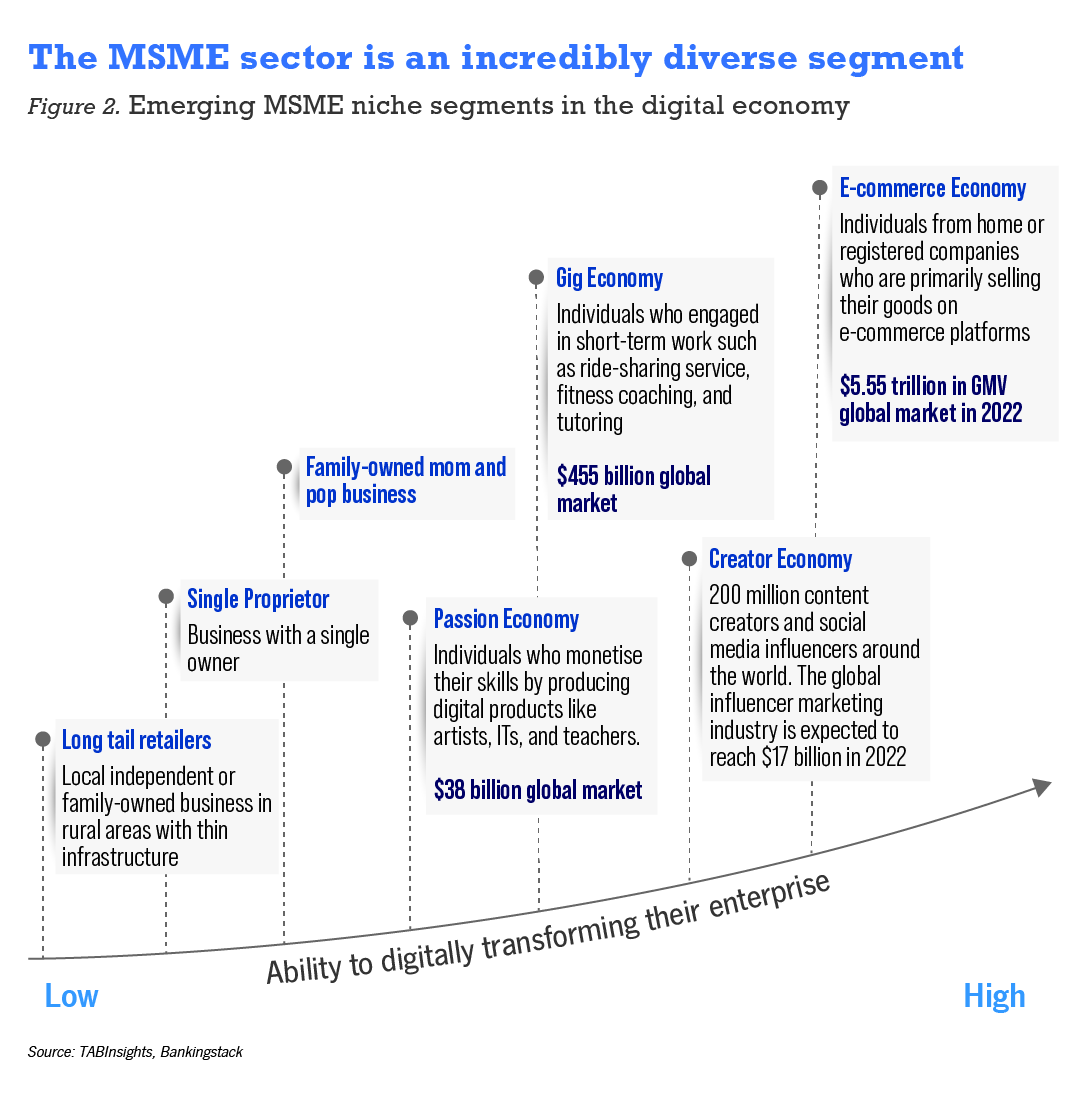 The emergence of new digital-native business models - and their rapid adoption by niche MSME segments have opened up new avenues of growth and important value pools for financial technology companies to serve. These sub-segments have witnessed skyrocketing growth, and their wider digital footprints allows fintechs and platforms to acquire and serve them more cost effectively.
Banks have largely stayed away from those micro-segments and rather partner with fintechs. Funding Societies, one of Southeast Asia's largest SME digital financing platforms signed in August a $50 million credit facility with HSBC Singapore. In the same vein, Validus, an SME financing platform and Citibank established a $100 million securitisation facility, collateralised by SME loans originated by Validus in Singapore.