With the rising strengths of platforms, TABInsights has launched a robust assessment of the leading 25 global platforms and ranked them according to a six-dimensional balanced scorecard. The scorecard assessment covers capabilities mapped across six key dimensions: customer base, coverage and connectivity, usage and engagement, performance, strategy and leadership.
The best platform demonstrates exceptional efforts to bring together a wide variety of integrated and relevant services that customers require to manage their financial and non-financial needs.
Platforms will be a key area for innovation and differentiation for retail finance, whether fronted by global or regional financial technology companies, big-tech messaging, or e-commerce players. Paradoxically, this will be an area for increased competition as well as collaboration as traditional players seek to embed products and services seamlessly into the customer journey and experience.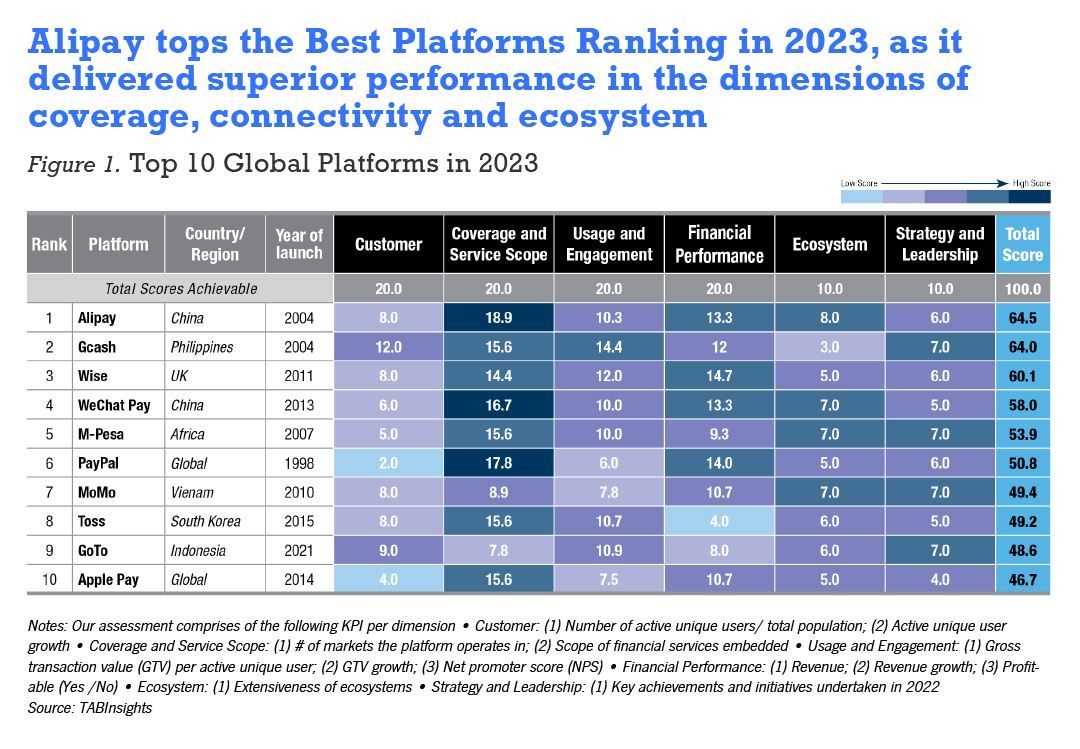 Alipay, GCash and Wise top the Best Platforms Ranking
China's Alipay topped the Best Platforms Ranking in 2023 as it delivered superior performance in coverage, connectivity and ecosystem. Founded in 2004, Alipay has established online payment channels for buyers and sellers in over 200 countries and regions.
It has remained the platform with the largest user base and demonstrated remarkable strength in attracting and engaging customers. Alipay also performed well in terms of usage and engagement, with an estimated gross transaction value (GTV) per active user of approximately $28,000 and a net promoter score (NPS) of 54.
Philippines-based GCash secured the second spot, with the highest scores in customer base, usage and engagement. GCash has become increasingly relevant in the daily lives of Filipinos, which led to a remarkable 67% growth in its user base in 2021 and a further 38% increase in 2022.
The platform's GTV exceeded PHP 3 trillion ($58 billion) in the first half of 2022. It is projected that this will reach PHP 6 trillion ($110 billion) in 2022, compared to PHP 3.8 trillion ($77 billion) in 2021. Among the top 10 platforms, it achieved the highest NPS of 76.
Wise ranked third. The platform scored highly in performance, with its revenue surging by nearly 70% in the first nine months of 2022 compared to the same period in the previous year. Wise also performed well in customer numbers, usage and engagement. Its active customer base grew by 35% to reach 5.8 million by the end of 2022, up from 4.3 million at the end of 2021. In the first nine months of 2022, its GTV increased by 41% year-on-year (YoY), with GTV per customer of approximately $21,500.
Platforms are expanding their financial services offerings
As ecosystems and embedded finance gain momentum, an increasing number of digital platforms have entered the financial services sector. They are expanding their offerings to include a range of financial products such as deposits, loans, buy-now-pay-later (BNPL), insurance and investments.
MoMo has formed partnerships with more than 70 banks and non-bank financial institutions to offer a complete range of microfinance services. The platform provides electronic know-your-customer credit underwriting information, customer onboarding, disbursement, and collection services on behalf of its financial institution partners to enable credit and financing, deposits and savings, micro-investment and insurance, and cross-border payments and remittance.
Toss started as a money transfer application and has diversified its offerings to encompass a range of services such as banking, peer-to-peer lending, mobile-based stock trading and investing, insurance, and BNPL, among others
Apple is expected to launch Apple Pay Later in 2023. This BNPL feature was introduced in June 2022, but the launch was delayed due to technical difficulties. Apple is also planning to release a new high-yield savings account option for Apple Card users.
Most of the top 10 platforms are profitable
GCash achieved positive full-year earnings before interest, taxes, depreciation, and amortisation (EBITDA) in 2021, three years earlier than projected. This can largely be attributed to its pervasiveness and scale, optimised monetisation and cost management. GCash has moved its entire infrastructure to the cloud, which has enabled the platform to enhance its agility, deliver scalable and reliable platforms while keeping its costs down.
MoMo claims to be the largest profitable digital wallet and integrated financial services platform in Vietnam, accounting for approximately 60% of the market with a total payment value of around $22 billion in 2022.
GoTo and Toss are currently not yet profitable. GoTo has announced plans to achieve profitability earlier than expected through revenue optimisation, cost management, and ecosystem product growth. The platform, that was listed on the Indonesia Stock Exchange in April 2022, announced a new leadership structure and aims to achieve positive adjusted EBITDA by the fourth quarter of 2023. GoTo's financial technology services saw significant growth in the first nine months of 2022, with GTV and revenue increasing by 84% YoY.
Click here to see the full Global Platforms Ranking 2023