Both Alibaba and JD.com decided not to disclose total sales figures for Double 11 shopping festival
Traditional e-commerce platforms face growing competition from other livestreaming e-commerce platforms
Brands have been encouraged to focus on long-term growth through loyalty membership programmes
China's Double 11 sales, also known as Singles Day sales, witnessed a further deceleration in the growth of total gross merchandise volume (GMV) this year. Alibaba didn't reveal the total Double 11 sales figures for the first time since it started the event in 2009. In a statement, Alibaba said that the results were in line with last year. In 2021, Alibaba posted Double 11 sales of RMB 540 billion ($84.5 billion), up 8.5% from 2020. Meanwhile, JD.com also didn't disclose the exact sales numbers, only saying that its Double 11 sales hit new high and sales grew faster than the industry average.
Alibaba started its presales 24 October and its Tmall marketplace offered discounts and shopping coupons on 17 million products, with a record-matching 290,000 brands participating worldwide. The first check-out window began at 8 pm on 31 October and ended on 3 November, while the second window lasted from 8 pm on 10 November to 11 November. During the first hour of this year's first check-out window, 102 brands on the platform recorded GMV over RMB 100 million ($14 million).
Slower GMV growth
The consumer confidence has remained weak in China, due to the stringent COVID-19 curbs, high inflation and rising job insecurity. The urban unemployment rate in China inched up from 5.3% in August 2022 to 5.5% in September 2022, while the youth unemployment rate remained elevated at 17.9% in September 2022, down from a record high of in July 2022. Meanwhile, the logistics services have been severely affected by the strict COVID-19 control measures, including lockdowns in many cities. On 11 November, China eased some of its strict COVID rules.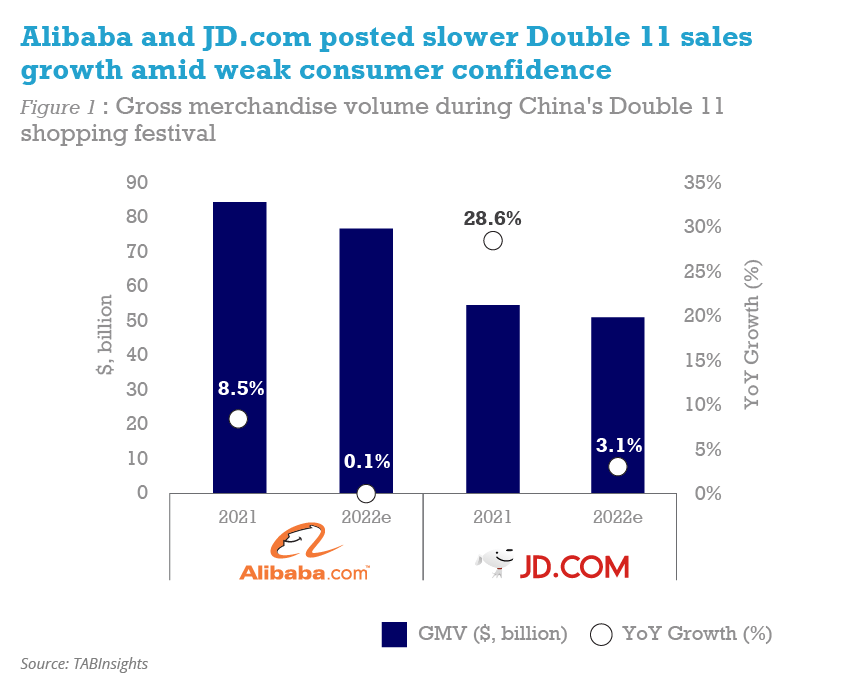 Chinese tech firms have faced increased pressure during the past two years, owing to the depressed consumer sentiment under the zero-COVID policy and the government-led crackdown on the technology industry. Alibaba and other players have shifted their focus away from the massive marketing campaigns and GMV growth amid the heightened regulatory scrutiny. It's also the first time that Alibaba didn't hold a gala celebration on 11 November.
Stiff competition
In addition to its traditional e-commerce peers such as JD.com, Pinduoduo and Suning.com, Alibaba also faces growing competition from short video apps and social media platforms such as Douyin, Kuaishou and Xiaohongshu as well as video streaming site Bilibili. The e-commerce GMV of Douyin and Kuaishou rose at a compound annual growth rate (CAGR) of 794% and 238% respectively from 2019 to 2021. The number of merchants that participated in this year's Double 11 Shopping Festival on Douyin's e-commerce platform grew by 86%, while Kuaishou saw the number of buyers up by 40% compared with the same period last year. Bilibili officially launched a livestreaming shopping function in October this year.
With expertise in video marketing and social commerce, these players joined the shopping festival using a live streaming model. There is a growing trend for consumers to spread out their purchases across several platforms. Many brands have promoted their products across different platforms to maximise their customer reach and an increasing number of consumers have been more loyal to brands rather than to platforms. Despite this, Alibaba and JD.com are still expected to account for around 90% of the total GMV generated.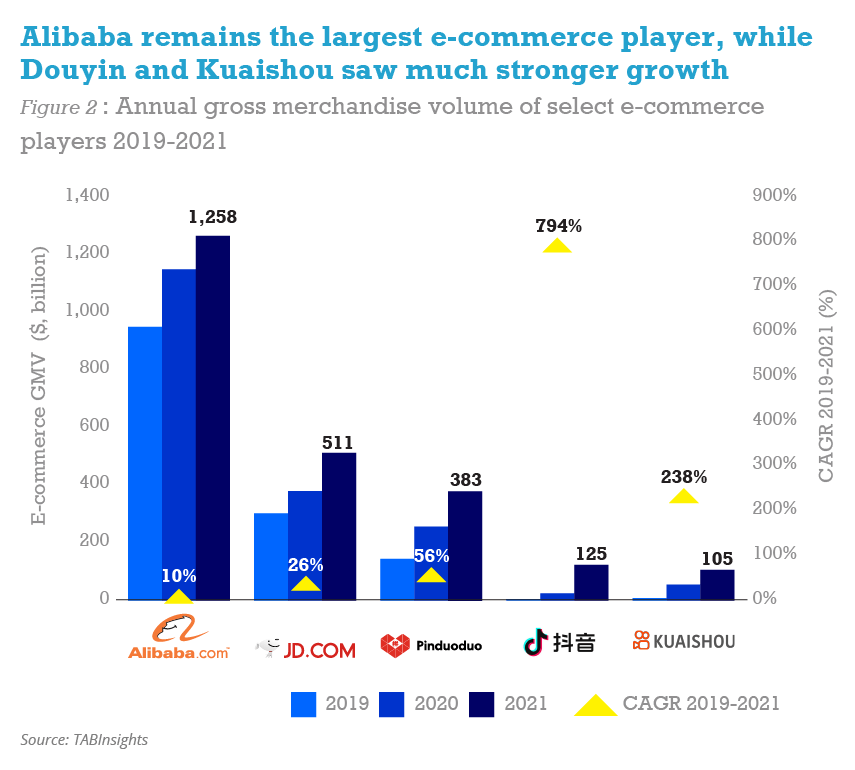 In response to the challenge posed by other platforms, Alibaba has been making efforts to expand the influence of its livestreaming channel. In the past 12 months, more than 500,000 new hosts have joined Taobao Live, the livestream shopping platform embedded on Taobao. The number of views recorded by Taobao Live surged by 600% during the first hour of the first check-out window, compared with the same period in 2021. During the entire sales period, more than 300 million shoppers watched live-streaming shows hosted on the platform.
Shifting focus to customer loyalty
This year, brands have been encouraged to focus on long-term growth through loyalty membership programmes. Alibaba established an ecosystem-wide loyalty programme called 88VIP in 2018. As of June 2022, the programme has over 25 million members with an annual average spend of over RMB 57,000 ($8,000). In addition, Alibaba has also helped merchants to grow their loyalty membership programmes. Over 40 brands have loyalty membership programme with over 10 million members, while nearly 600 brands have more than one million members.
Alibaba stated that its brand loyalty membership programme has become the driving force for sales growth and the contribution of member-led GMV has become more significant. During the presale period from 24 October to 31 October, brands on Tmall gained more than 66 million new members. In the first four hours of the second check-out window, over 130 brands registered more than RMB 100 million ($ 14 million) in GMV generated from their members. Meanwhile, over 5,600 brands saw their member-led GMV more than double compared with the same period in 2021.